Hubby and I did the home inspection on our new house Wednesday morning. We're closing on 10/28 (yay!!!) and I'm very excited. I got a call on my cell phone towards the end of the inspection, so I left Hubby with the inspector and took the call.
"We'd like you to do a cake for our baby shower."
"OK, sure.
"It will be on the baby shower is being filmed for a TLC documentary, so you'll probably want to step it up a notch."
(gulp) "OK, sure thing.
"We need it delivered on Sunday."
(in three days?!?! trying not to pass out) "OK. That doesn't leave much time, do you have time to meet today?"
...
I couldn't believe it. It wasn't just filming the event and the cake will just happen to be there. No, not that simple. They were filming the entire process... planning, preparations, setup, the works. About 2 hours after the call, I'm at the Holiday Inn in town talking to the crew from Firecracker Films about what's going on, why they are filming, what they are filming, and what I needed to do. They don't have a title yet, but it is about travelers (gypsies) and their celebrations in the USA.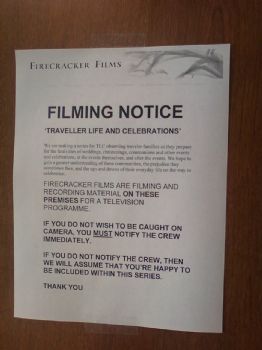 This production is out of London, England, so they also had way cool accents.
So I meet with the ladies - Nettie (grandma-to-be) was throwing the shower for her daughter Dallas (5-1/2 months along and due to deliver about the time the show airs in January 2012), and had 2 other daughters (I'm not sure if the third was her daughter or a close relation) with her to help plan. We talked cake for about an hour with the camera rolling, pausing, asking questions, retaking to get a different point of view, a different reaction.
They wanted the cake to be BIG. LOTS of bling, sparkle, shine, shimmer, glitter. It had to be impressive. It had to have diamonds and lights. It had to be pink and purple, but not just any purple. It had to be a "SEXY purple". It had to be almost 4 feet tall. It had to feed 100 people. Yikes! They had a design in mind from the cover of the Wilton Yearbook and a vision.
With the side interviews done and payment arranged, I went to work planning.
I sketched my design...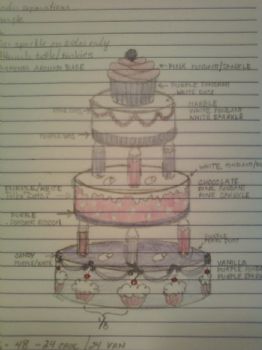 I went late-night shopping at Michael's for bling and sparkle and other shiny supplies...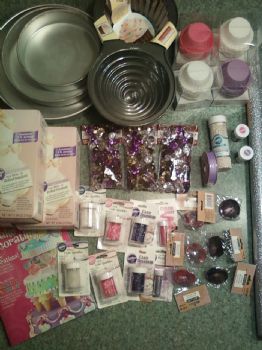 And that was Wednesday.
But what to do about the lights? In speaking with a co-worker (at my day job), he suggested lights from the auto department at Wal-mart. I found some rockin' directional LEDs that would bend into a circle for under each tier.
I picked up my apprentice cake decorator, Amy, on my way home from work Thursday, and we started making fondant decorations while the first cakes were baking. Hubby was very supportive and kept the kids out of our hair.
"Mommy is NOT here. Don't go in the kitchen."
4 dozen cupcakes and 1 GIANT cupcake done, fondant bits made, we ended at about 9:30 that evening and I took her home. I have 5 pounds of purple fondant, 5 pounds of pink fondant, and a tray of assorted molded, painted fondant bits on my counter.
Friday I got Amy on my way home again and we worked until I had to take her home at 9pm. We made more fondant bits, baked more cake, etc. After I got home, I was up again until 11:30 baking more cake.
Saturday morning while Hubby took the kiddos grocery shopping, I was making icing, crumb coating and chilling cake, and covering cake with fondant. Amy came over again to help me finish decorating the cakes, coating with sparkles, pearl dust, bobbles and bits until about 9:30 again until the decorating was done. I took her home, and then I started fabricating the boards, supports, stringing the lights, covering with that crazy glitter paper, and working the bottles. There's glitter EVERYWHERE! I'm still finding it on me, my husband, the counter, the floor, the cat. I can't get rid of it! It was a late night, and I finally went to bed at 1:30 am Sunday.
Sunday morning (later Sunday morning), I got up, loaded the back of the Explorer with the cake and assorted accessories (with the seats down, it took up all of the space from the driver's seat back), picked Amy up on my way, and went to the Holiday Inn to set up. The camera crew was waiting to film us. Oh, boy!
They filmed us unloading.
They filmed us setting up.
They filmed us fighting with the wires on the lights.
They filmed us adding bits to the cake.
They stopped filming when I had to make a last minute run to Sheetz to pick up two 9-volt batteries and some duct tape.
We managed 10 minutes of uninterrupted work time when I got back without cameras. :) And after a brief scare with the top lights and their functionality, we stepped away from the completed cake just in time for Nettie and company to walk in (film crew in tow) and see it.
They loved it, and this is what they saw...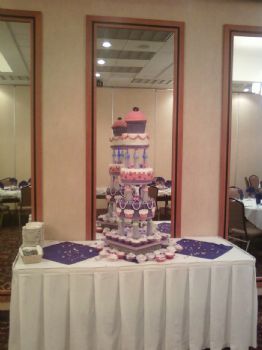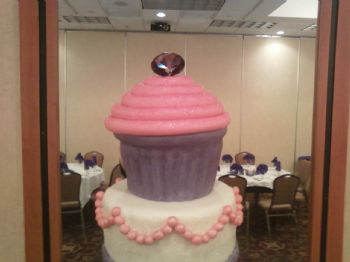 (please ignore the kooky cake lady in the next picture)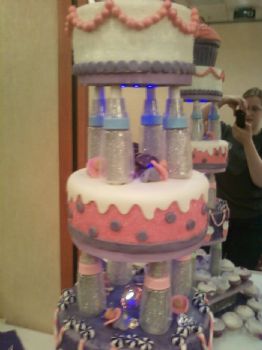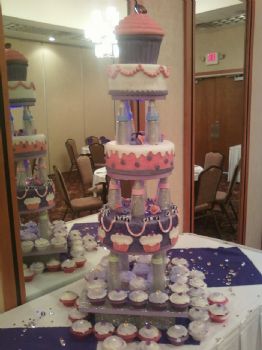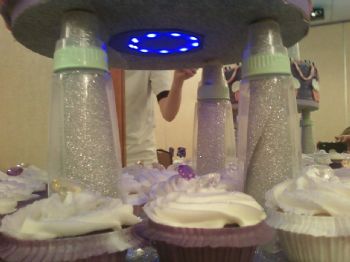 I wish I could have gotten a picture of what the cake looked like with the lights dimmed. It was awesome. But they were filming, so I couldn't just whip out my camera. :(
This is a picture of Amy standing next to the cake for reference of how tall it was (almost 4 feet). I'm 5'10" and I had to REACH to get that top diamond on it.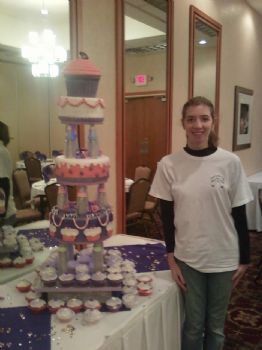 It was the biggest, most complicated cake I've ever done. I'm glad it turned out so well and that they were pleased with it.